Chua Ba Congregation Hall and Chieu Ung Pagoda in Hue, Vietnam
After the Nguyen decisively put down the Tay Son Rebellion in 1802, they became the first dynasty to rule a unified Vietnam after several hundred years of north-south disunity. They established their new capital at Hue in central Vietnam, the family's seat of power. The choice of Hue, lying midway between northern and southern Vietnam, signalled an important break with previous dynasties, which had usually located their capital at Hanoi in the north. If you go to Hue today it is still possible to see its Forbidden Palace, modelled on that in Beijing, and the tombs of successive Nguyen emperors in the environs of the city.
Hainan enjoyed a unique relationship with Vietnam during the time of the Nguyen dynasty. The court extended special privileges to traders from the island, as is revealed in this passage from Vietnam and the Chinese Model (by Alexander Barton Woodside, 1988, Council on East Asian Studies Harvard, pp 273-274):
Chinese junks from Kwangtung [Guangdong], Fukien [Fujian], and Shanghai, along with Western merchant ships, paid the largest assessments of harbor taxes [cảng thuế] and proprieties money [lễ tiền]. But junks from Ch'ao-chou [Chaozhou] prefecture in Kwangtung province were required to pay only 75 percent of the taxes other Kwangtung junks paid. This bureaucratic patchwork was made even more elaborate with the inclusion of special categories for Hainan Island junks. They paid the smallest taxes of all.

.....

To enforce this complicated taxation, court officials who boarded Chinese junks were often accompanied by Minh-hương [naturalised people of Chinese origin] interpreters. Assimilated enough to be loyal to Huế but still Chinese enough to understand the language and customs of south Chinese junk crews, the Minh-hương were in fact charged with finding out if Hainan junks were really Hainan junks. Chinese junk captains from provincial ports in China susceptible to higher Vietnamese taxation knew Nguyễn regulations so well that they frequently pretended to come from Hainan or Ch'ao-chou when they did not.
Today, the presence of Hainanese in Hue is marked, as it is in many Southeast Asian cities, by a Hainanese Congregation Hall.
The following is an external shot of the Hainanese Congragation Hall in Hue, taken by the author in 2003. Information below is adapted from Lonely Planet Vietnam guidebook by Mason Florence and Virginia Jealous (7th edition, Feb 2003).
The Chua Ba -- the Hainanese Congregation Hall in Hue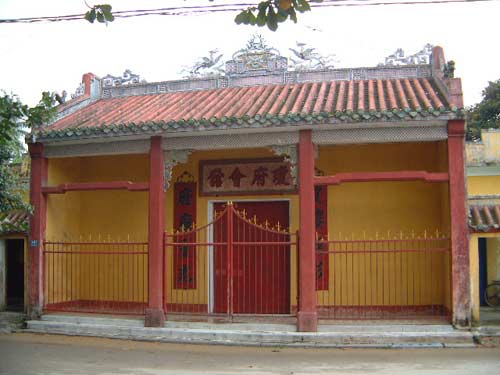 Chua Ba was founded by the Hainan Chinese Congregation almost a century ago. It was damaged in the Tet offensive and subsequently reconstructed. On the central altar is Thien Hau Thanh Mau (天后圣母), the Goddess of the Sea and Protector of Fishermen and Sailors. To the right is a glass case in which Quan Cong sits flanked by his usual companions, the mandarin general Chau Xuong (to his right) and the administrative mandarin Quang Binh (to his left).
However, not was all smooth sailing for the Hainanese. In one incident in 1851, 108 (or 180?) Hainanese traders were mistakenly executed as pirates in Quang Nam province. Along with its Hainanese Congregation Hall, Hue has a pagoda -- the Chieu Ung Pagoda -- dedicated to these wrongfully executed traders. The pagoda is located next door to the Hainanese Congregation Hall. Similar shrines can be found in Hoi An and Danang.
The Chieu Ung Pagoda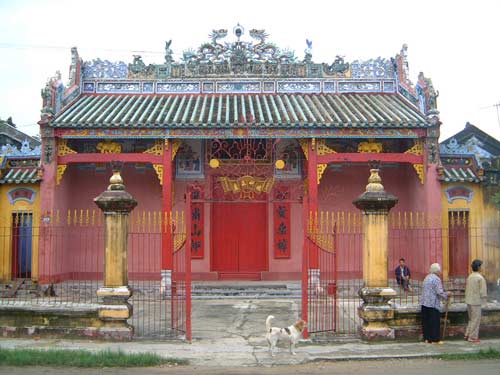 The Chieu Ung Pagoda was founded by the Hainan Chinese Congregation in the mid-19th century and rebuilt in 1908. It was last repaired in 1940. The pagoda was built as a memorial to 108 Hainan merchants who were mistaken for pirates and killed in Quang Nam province in 1851, during the reign of Emperor Tu Duc.

(Author's note: The young woman inside this pagoda told me that she was of Hainanese descent, but she was unable to speak any Hainanese.)

Another memorial to the 108 Hainanese traders can be found in the old trading city of Hoi An. The city's Assembly Hall of the Hainan Congregation (no photo) dating from 1883 was also a memorial to the 108 Hainanese merchants. An elaborate dais contains plaques in their memory while in front of the central altar is a fine guilded woodcarving of Chinese court life.