Changhua (昌化 Chānghuà) is a charming little fishing port. Its streets are lined with little cottages reminiscent of those you might find in England or other European countries. However, a building rush was under way when we were there. Locals who had done well outside had come back and were building magnificent new two-storey houses for their parents or their own future retirement.
The town is populated by Han Chinese, speakers of the Hainanese dialect. The Hlai (or Li), the original inhabitants of the island, are numerous in this part of Hainan, but they live in the mountains, not on the coast.
There is only one guesthouse in town and just a few restaurants. (We saw a largish hotel as we came into town, but it had closed down.) The guesthouse is RMB 80 a night. While not much more than USD 10-12, this is fairly high by Hainanese standards. A comparable guesthouse in another town would not charge much more than RMB 50 a night.
There were two main seafood restaurants in town. One was on the ground floor of the guest house we were staying in. The other was in an upstairs location, overlooking the port. The second restaurant is owned by Mr Huang, the only licensed guide to Qizi Bay. After a singularly unsuccessful first outing at Qizi Bay, we decided to engage Mr Huang's services for the princely sum of RMB 100 a day.
Quaint cottages line the street.
Exactly how roomy is that upstairs floor?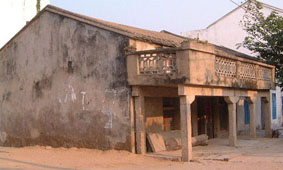 A building boom was in progress, especially in the street that ran closest to the waterfront.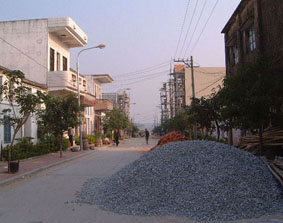 The slogan is part of China's campaign to control population growth and prevent problems caused by inbreeding. it reads: Many troubles if you marry close kin; few burdens if you bear a small number of high-quality children.

The town's only guesthouse (
金海轮旅馆
Jīnhǎilún Lǚguǎn), phone (0898) 2677 1718. The rooms were clean and comfortable but overpriced.