Sushi
Sushi is possibly the best known Japanese dish in the world. It has managed to penetrate the higher echelons of trendy dining in a way that its compatriot sukiyaki, which breached Western palates a generation earlier, was never able to do.
Sushi can be written at least three ways in Chinese characters:

,
, and

. Neither
, and

is approved in the Joyo Kanji.
The following are examples of different ways sushi is written in restaurant signs. All except the third were within metres of each other (two belonged to the same restaurant).
Tenka-zushi
Tenka sushi

Sushi
Sushi
Akasaka Sushi Hozumi
Akasaka Sushi Hozumi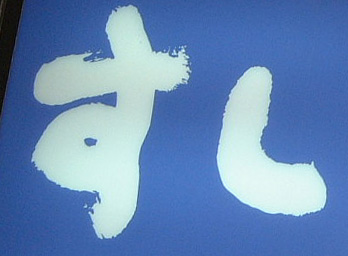 Sushi
Sushi
I did not manage to find any examples of

.
The following are Google results for the word sushi on the Internet (August 2003):
| | |
| --- | --- |
| Form | No. of occurrences |
| | 406,000 |
| | 338,000 |
| | 67,100 |
| | 46,300 |
| | 16,300 |