Where to Buy Mongolian-Language Books in Hohhot
16 October 2011 (date of earliest version)
As is widely known, ethnic Chinese (Han) now heavily outnumber Mongols in Inner Mongolia. This Han predominance is glaringly obvious in the cities, where the language heard spoken in the streets is overwhelmingly Chinese.
A similar situation holds for bookshops. While Chinese-language bookstores are quite common throughout the provincial capital of Hohhot (呼和浩特 hūhéhàotè in Chinese, Хөххот khökh khot in Mongolian Cyrillic script), finding Mongolian-language bookshops requires a bit of asking around.
Just in case there is someone out there who is interested in Mongolian-language books, I've put together a rough guide to the main Mongolian-language bookshops that I managed to find in the city over several visits. (Note: Mongolian books in Inner Mongolia are almost exclusively in the traditional Uighur script. The Cyrillic script of Mongolia itself is found only in imported books -- which can actually be found in some of the bookshops listed).
There are four main places where Mongolian-language books can be found: two shops in the middle of the city, one somewhat to the east, and a group of bookshops near the University of Inner Mongolia. The map below shows the rough location of the four.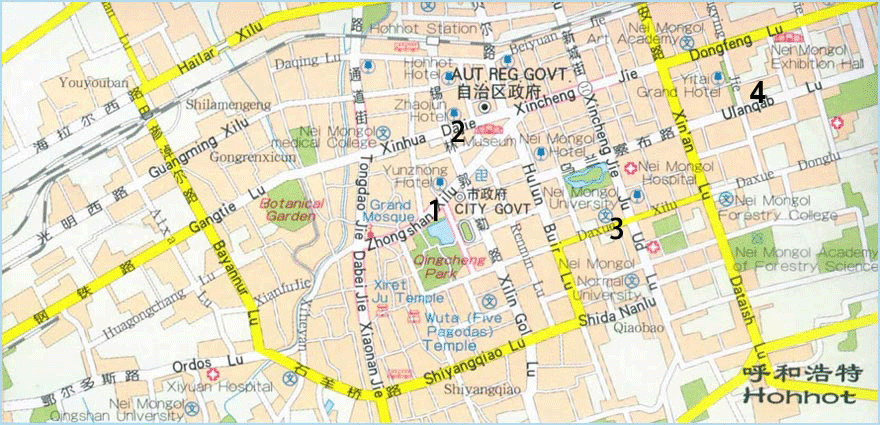 ---
1. Xinhua Bookstore (新华书店 xīnhuá shūdiàn)
The Xinhua Bookstore is found in the heart of Hohhot, on the south side of the busy Zhongshan Xilu (中山西路 zhōngshān xīlù) shopping street. The official address is 94 Zhongshan Xilu (中山西路94号). It is just past Wangfujing Department Store as you come from the east. At street level it's not easy to find because it is in a well-disguised location upstairs from a Gome (国美 guóměi) electronics store -- see photo. If you're one of those people who nervously glance up at the sky in order to avoid falling satellite debris, you will actually see a sign at the top of the building's facade saying (in Chinese)'Book Plaza' (图书大厦 túshū dàshà).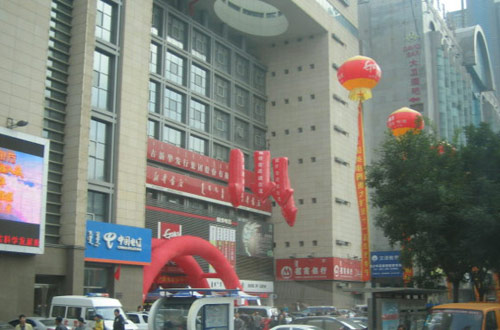 This is a view of the building as you come to it. Notice the distinctive hole-in-the-roof above the facade.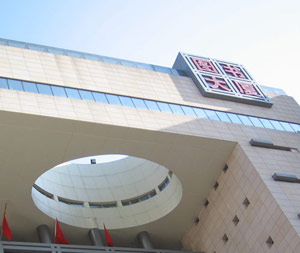 Look up and there is the sign.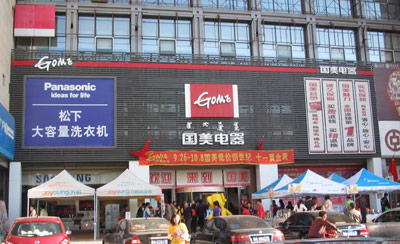 A direct view of the entrance (taken on a different occasion, so yes, it does look different).
Mongolian books have a section to themselves on the 4th floor. Sadly it is quite deserted compared to the large bustling floor space devoted to Chinese-language books.
The selection here is fairly large but consists mainly of books currently in print or recently published books. Don't come here expecting to find rare or out-of-print books. I noticed that some Mongolian-speaking visitors left without finding anything they wanted.
---
2. Inner Mongolia Book and Audio Plaza (内蒙古图书音像广场 nèi měnggǔ túshū yīnxiàng guǎngchǎng)
Although this is one also upstairs, it is much better signed than the Xinhua Bookstore.
The address is 60 Xinhua Dajie (新华大街60号), opposite the Zhaojun Hotel (昭君酒店 zhāojūn jiǔdiàn).
The front of the Book and Audio centre. The entrance is at the sign that says TU SHU YIN XIANG.
Again, this is a Mongolian bookshop tucked away inside a Chinese-language bookshop. While much smaller than the Xinhua, it possibly has a more interesting selection of books. This is where I found my Inner Mongolian translation of Saint Exupery's Little Prince, which I have never seen anywhere since, so this little shop is worth a visit.
---
3. Cultural Plaza (文化商城 wénhuà shāngchéng)
If you are serious about buying books in Mongolian, this is definitely the place to come. It houses the largest Mongolian-language bookshop in Hohhot in addition to at least five smaller shops.
The Cultural Plaza is located near the University of Inner Mongolia, on the southeast corner of Ju Ud Lu (昭乌达路 zhāo-wū-dá lù) and Daxue Xilu (大学西路 dàxué xīlù). It is easiest to come in the east entrance (pictured) as it leads straight into the building housing the large bookstore, which is on the second floor.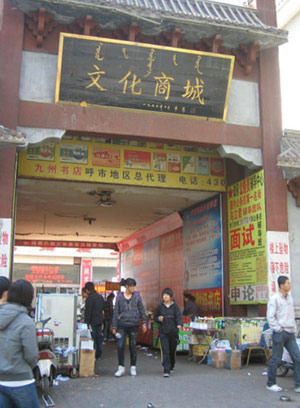 This is the east entrance to the Cultural Plaza (

文化商城

wénhuà shāngchéng

or

Соёлын худалдааны хот

soyolin hudaldaani hot

).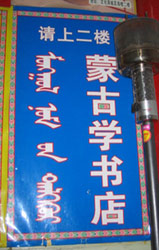 Just follow the signs...
to the second floor. This is the entrance to the shop.
This bookshop has a large range of books in Mongolian, as well, of course, as Chinese books about Mongolian history and culture. It is definitely busier than the Xinhua Bookstore and carries a broader range of titles, including books that you might expect to find in a Monglian cultural milieu, such as a Tibetan-English dictionary. It even has some books imported from Mongolia, including (when I was there) a five-volume dictionary of Mongolian that is not particularly easy to find even in Mongolia.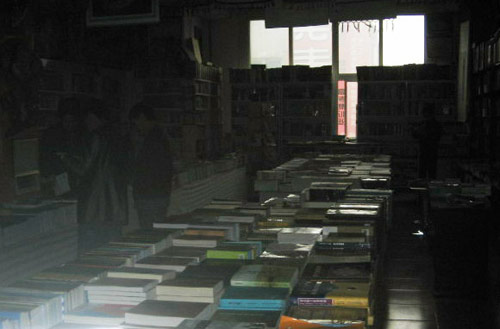 A view of the interior. Unfortunately, the day the photo was taken there was a power outage.
There are a number of other smaller bookshops that are definitely worth checking out. They are located on the south side of the Cultural Plaza, towards the southeast corner, with four shops upstairs and one downstairs.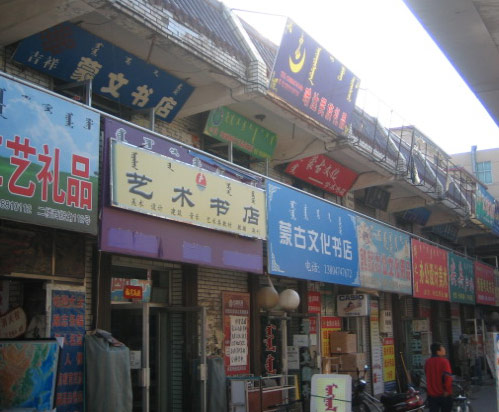 A view towards the southeast corner.
The shops are as shown. One downstairs..
And four upstairs....
There is a certain amount of specialisation among these shops. One, for instance, had a fuller range of books on linguistics (in Chinese, not Mongolian) than the others. So it is worth going to all of them to find what you are looking for.
---
4. Inner Mongolian Educational Press Books Plaza (内蒙古教育出版社图书广场 nèi měnggǔ jiàoyù chūbǎn-shè túshū guǎngchǎng)
A fourth good place for finding Mongolian-language books is the Book Plaza run by Inner Mongolian Educational Press. This is located at Wulanchabu E Street (乌兰察布东街 85号 wūlánchábù dōng-jiē 85).
Outside view on a dreary autumn day
As might be expected, there is an emphasis on educational books here, but other books are also on offer. If you are looking for Mongolian-language textbooks used in Mongolian-stream schools in Inner Mongolia, this is the place to come.
---
Happy hunting! If you find some worthwhile bookshops that I haven't covered, drop me a line.
(There is now also a companion page on Where to buy Mongolian-language books in Ulaanbaatar (Ulan Bator). All comments welcome!)