Where to Buy Mongolian-Language Books in Ulaanbaatar (including second-hand books)
Unlike in Hohhot, there is no problem buying Mongolian-language books in Ulaanbaatar (aka Ulan Bator). There are quite a few bookshops, large and small, scattered around the city, and finding a bookshop of some description is not at all difficult. This page is therefore devoted not to presenting an exhaustive list of bookshops in Ulaanbaatar (which would be rather difficult to do and soon become out of date) but to introduce the two major bookshops as well as the place to go for used books.
The map of central Ulaanbaatar below indicates the locations of the two largest bookshops (1 and 2), the place where second-hand bookshops are found (3), and a small bookshop that stocks books in traditional Mongolian script (4).
---
1. Internom Book Store (Internom Номын их дэлгүүр nomin ikh delgüür), generally considered to be Ulaanbaatar's largest and best bookshop.
This bookshop is in the street that runs along the side of the Ulaanbaatar Hotel, and is located roughly opposite the Sports Palace.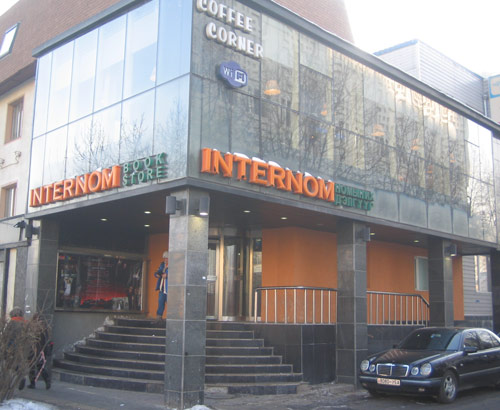 External view of the Internom Book Store entrance
This bookshop has two floors. Downstairs is the general books section, with books ranging from history to religion to novels to sport to the latest best-sellers. There is also a very extensive section of children's books in Mongolian and foreign languages.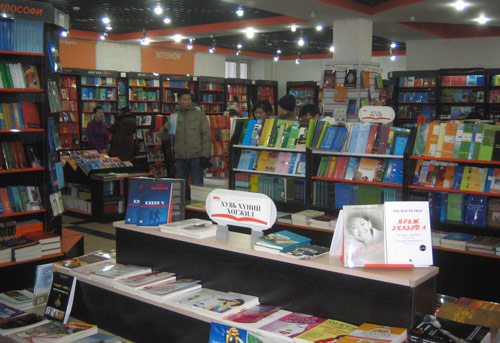 Partial view of the Internom first floor (February 2012)
Upstairs is where you will find books on more business-like topics such as auditing, agriculture and husbandry, mining, marketing, society, and school textbooks, as well as language and dictionaries. There is also a section selling maps, DVDs and CDs, and finally a coffee shop.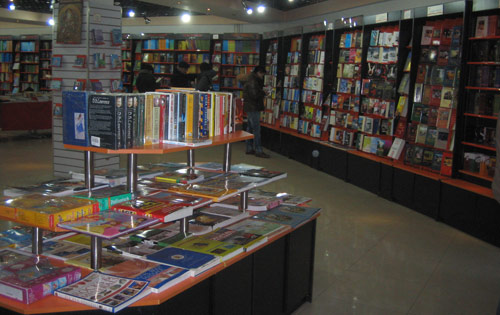 Partial view of the Internom second floor (February 2012).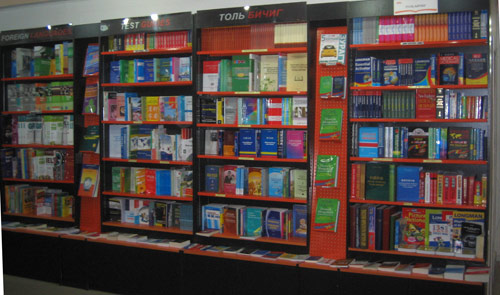 View of the foreign language-learning and dictionary shelves.
There are several smaller Internom bookshops around UB, notably in the Gandirs Building to the east of the State Department Store; in the Grand Plaza (on Peace Avenue to the south of the Gandan monastery); and in Gurvan Bileg building in the 3rd/4th district. These are marked with asterisks on the map.
---
2. Nomin Bookshop is on the 6th floor of the State Department Store.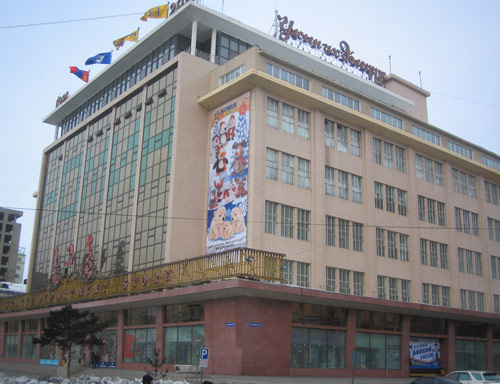 A view of the much-photographed State Department Store. Nomin bookshop is on the 6th floor at the rear end.
This is also a large shop with an extensive range of books in Mongolian, including a good section of children's books. There are also some books in English.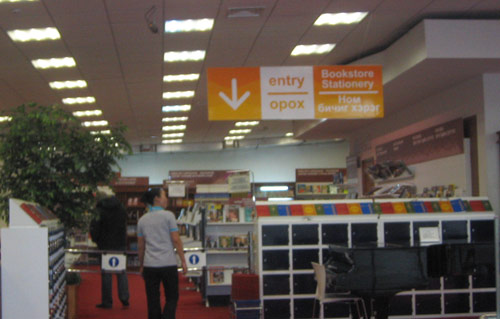 The entrance to the Nomin bookshop.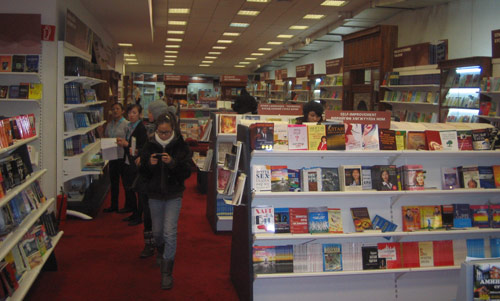 Interior shot of one end of the Nomin bookshop. (This photo was taken illegally. No photos are allowed inside the department store).
It is always an idea to go to both bookshops, since they do not invariably carry exactly the same books. There are also other bookshops around Ulaanbaatar that are worth a visit (as mentioned above, they are not covered on this page), and universities may also have book stalls worth visiting.
While bookshops around UB carry a broad range of recently published books, unfortunately it does not take long for books to go out of print, and when they do, it is almost impossible to find them.
---
3. Second-hand book centre. It would be nice to say that if you can't find a book in any of the main bookshops you should mosey on down to the second-hand bookshops. Unfortunately it doesn't quite work that way. The second-hand bookshops can be a treasure trove of old books, but you would setting yourself up for severe disappointment if you went there with your heart set on finding a particular out-of-print book. What you will find is a rather skewed selection of used books, with the commonest types probably being reference books and text books. Nevertheless, the second-hand book centre is well worth a visit.
The second-hand bookshops are found on the bank of the Selbe Gol (Сэлбэ гол selbe gol), a small river running north-south slightly east of centre through Ulaanbaatar. More specifically, they are found on the northwestern side of what is known as the 'bridge with lions' (Арслантай гүүр arslan-tai güür) on Peace Avenue. Below is a picture looking east towards the Lion Bridge (the lions themselves can be seen if you look closely).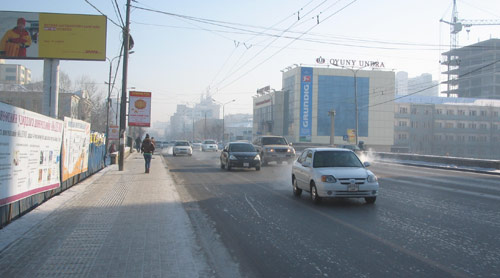 The lions look rather tiny from here, but they are visible on either side, at the start of the bridge parapet.
Viewed from the bridge, this is how the second-hand bookshops look: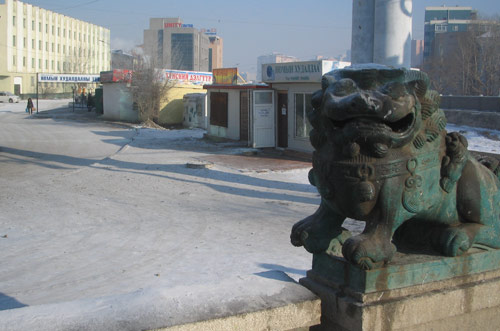 The main hall of shops is located beside the sign that says Номын худалдааны төв

nomin khudaldaani töv

'book trading centre'.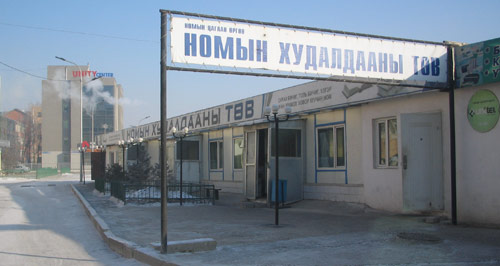 A closer view of the main hall.
Inside you will find a large number of individual stalls, each with an attendant touting his or her wares and eager to suggest books you might need. It is probably a good idea, however, to bring along a Mongolian friend as the friendly booksellers can charge rather exorbitant prices.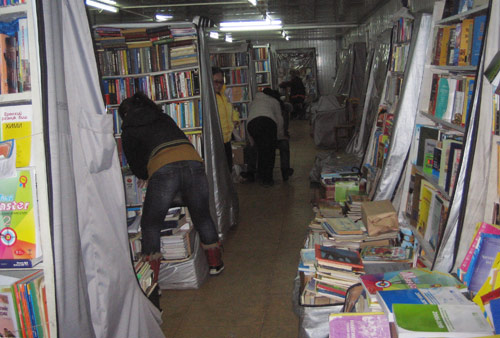 An interior view of the main hall containing second hand books (taken in 2012). The middle stalls have now been removed.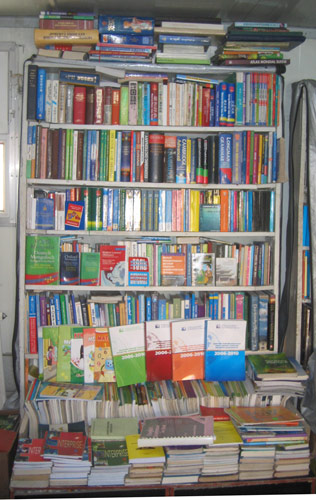 A typical stall.
Aside from the large hall of small bookstalls, there are also a couple of small stand-alone shops closer to the bridge.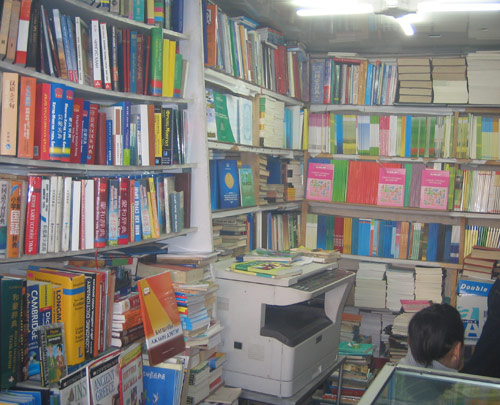 The interior of one of the small shops.
I have picked up a lot of used books here that can't be found elsewhere. Betraying my own particular interests, these include quite a few dictionaries: Kazakh-Mongolian, Russian-Buryat, Russian-Mongolian, Mongolian-Russian, Korean-Japanese/Japanese-Korean, Korean-Chinese, Mongolian-Turkish/Turkish-Mongolian, Mongolian-Japanese, and an Inner Mongolian monolingual dictionary published in China. There was much more on offer that I could have bought but had to restrain myself.
4. Books in traditional script (Tagtaa Nomin Delgüür).
If you ever have a hankering for books in the traditional Mongolian script, there is one bookshop that carries a range of Inner Monoglian titles imported from Hohhot (specifically from Xinhua Bookstore).
That shop is Tagtaa Bookshop (Тагтаа Номын Дэлгүүр tagtaa nomin delgüur) or 'Dove Bookshop', located roughly opposite the Chinese Embassy. Books carried include Inner Mongolian dictionaries, literature, non-fiction, etc. There are also some books in Chinese. Of course the prices are considerably higher than Hohhot, but you will save yourself an airfare!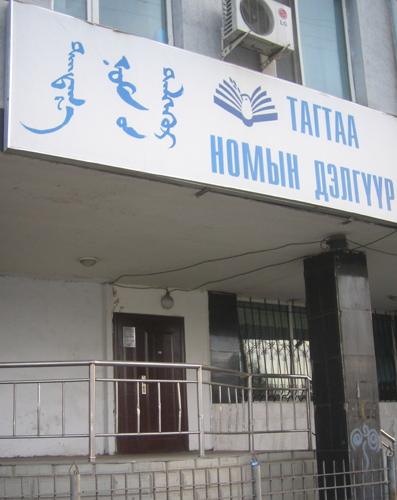 Exterior shot of Tagtaa Bookshop.
Interior shot of Tagtaa Bookshop showing Inner Mongolian books and Chinese books.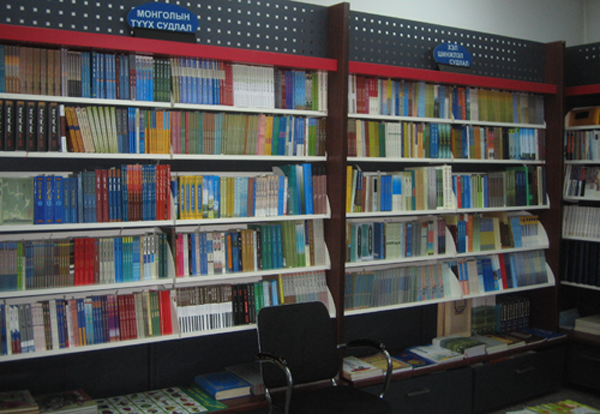 Bookshelves in Tagtaa Bookshop
That wraps up this introduction to bookshops in Ulaanbaatar. If you become aware of other bookshops that you would recommend for buying Mongolian-language books, drop me a line. I would de delighted to add their details.