Chikan
Chikan is a derogatory word for the type of man who surreptitiously feels women up on the train or molests women in dark spots on the way home at night. In recent years this kind of activity is being taken more and more seriously by the authorities.
As a Chinese-style compound (on-reading) chikan is written in Chinese characters as 痴漢. The characters literally mean 'stupid man' or 'unenlightened person', somewhat wide of its current meaning. Perhaps because of this, chikan is frequently encountered in katakana as チカン.
The poster below, photographed at Akasaka-mitsuke subway station, manages to capture both possibilities at once: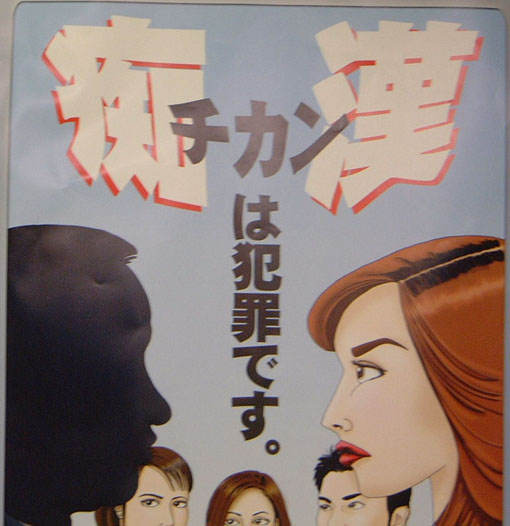 Chikan wa hanzai desu.
Groping is a crime.
A Google search reveals the following pattern of usage on the Internet:
| | |
| --- | --- |
| Form | No. of occurrences |
| 痴漢 | 98,800 |
| チカン | 19,100 |
| ちかん | 9,610 |
Note: The actual figures for チカン must be heavily discounted as the Google search netted a large number of words unrelated to chikan (e.g., the Japanese word for the Vatican, バチカン Bachikan, also turns up on a search for チカン chikan).