Benri
Benri is a Chinese-style compound (i.e., using the on-reading) normally written

. It means 'handy' or 'convenient'.
Gutto, benri ni narimashita

It's now much more convenient
Like kantan ('simple'), benri is at times written in katakana as

. The aim appears to be to emphasise the convenience of the service: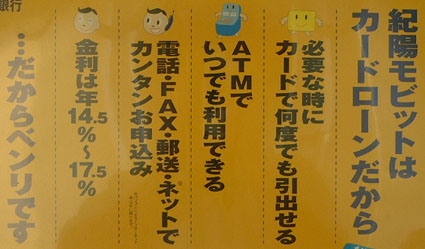 Kiyō Mobitto wa kaado rōn dakara,
* Hitsuyō na toki ni kaado de nando demo hiki-daseru
* ATM de itsu demo riyō dekiru
* Denwa, fakkusu, yūsō, netto de kantan o-mōshi-komi
* Kinri wa nen 14.5% - 17.5%
...dakara benri desu.
Because Kiyo Mobit is a 'card loan',
* You can withdraw whenever you need to by card
* It can be accessed any time at an ATM
* Applying is easy via phone, fax, mail, or Internet
* Interest is 14.5% - 17.5% p.a.
That's why it's convenient.
A Google search in September 2003 revealed the following distribution on the Internet:
| | |
| --- | --- |
| Form | No. of occurrences |
| | 3,760,000 |
| | 46,000 |
| | 11,400 |