Chūi
Chūi is a character compound that is read in the on reading. The meaning is 'take care, pay attention to'. The two characters with which it is written, 注意, mean 'to pour' and 'will'.
Chūi is routinely written in Chinese characters, as found in the sign below: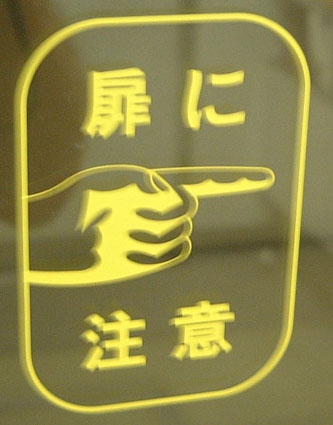 Tobira ni chūi
Be careful of the doors
While this is the normal way of writing chūi, the Osaka subway has a predilection for writing chūi in hiragana as in the sign below. This sign was less than a metre away from the sign above.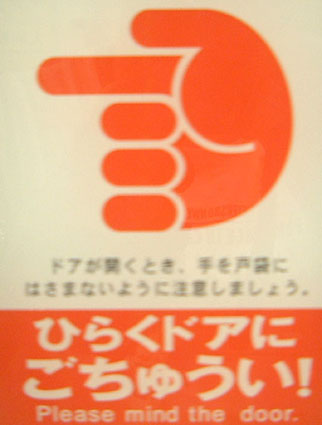 Hiraku doa ni go-chūi!
Please mind the doors when they open.
A Google search in September 2003 revealed the following distribution on the Internet for the word go-chūi:
| | |
| --- | --- |
| Form | No. of occurrences |
| ご注意 | 3,600,000 |
| 御注意 | 950,000 |
| ごちゅうい | 980 |
The use of 御 is much lower than ご, which is the general trend in modern Japanese. The hiragana form ごちゅうい is quite rare.