Happii
'Happy' is a well-known English word in Japanese. Although pronounced in a Japanese manner that sounds like 'hup-pee', it is apt to be spoken in a chirpy tone of voice with a little lilt as if to say 'I'm using a foreign word, and I'm happy!'.
The normal way of writing happii is in katakana as ハッピー, in which case it simply looks like another foreign borrowing.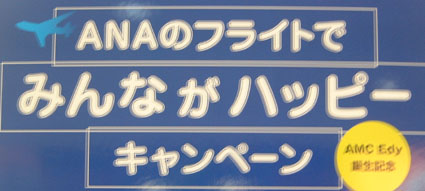 ANA no furaito de
minna ga happii
kyanpeen
'Everybody is happy with ANA flights' campaign
But happii is often found written as an English word, Happy!, which looks like an exclamation of happiness:
Loto. Sore wa, happii no sain.
Loto. That's a sign of happiness!
The following results of a Google search in August 2003 confirm the preference for the English spelling on the Internet:
| | |
| --- | --- |
| Form | No. of occurrences |
| Happy | 346,000 |
| ハッピー | 81,800 |
| はっぴー | 26,000 |