Jitensha
The Japanese word for 'bicycle' is jitensha, written 自転車 in Chinese characters. This mostly how it is written, as can be seen in the signs below.
Jitensha o nozoku

Bicycles excepted

Jitensha riyō-sha no mina-san e.
Koko wa jitensha riyō-sha no mina-san ga muryō de riyō dekiru basho desu. Kanarazu tsugi no koto o mamotte kudasai.
To bicycle users
This is a place for the free use of bicycle users. Please obey the following.
There is one place, however, where the characters are not used -- in road signs painted directly onto the road surface.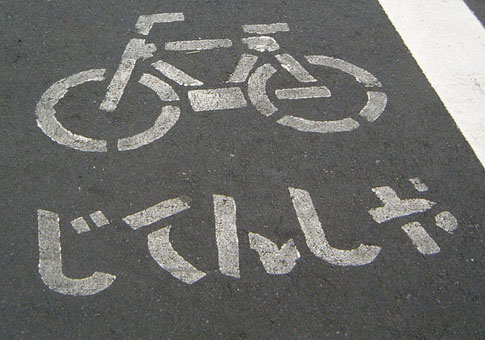 Jitensha
Bicycles
This appears to be a case of simplification for safety and technical reasons. Kanji would require a larger number of strokes than is suitable for the medium of paint-on-bitumen. To ensure clarity, hiragana is thus used.
A Google search in August 2003 revealed the following distribution:
| | |
| --- | --- |
| Form | No. of occurrences |
| 自転車 | 808,000 |
| じてんしゃ | 4,460 |
| ジテンシャ | 757 |