Kyūkei
Kyūkei is a Chinese compound (on reading)meaning 'rest'. It is written 休憩 in Chinese characters (kanji).
It is uncommon to see kyūkei in anything but Chinese characters. It was thus surprising to see the following sign outside a love hotel advertising kyūkei prices in a mixture of kanji and hiragana, as 休けい. (Kyūkei means renting a room for a couple of hours).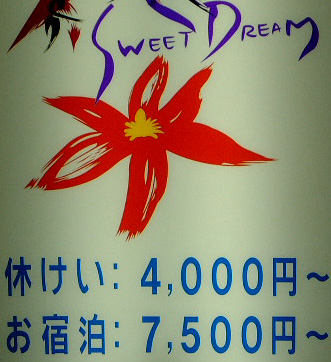 Kyūkei: 4,000 en ~
O-shukuhaku: 7,500 en ~
Short time: 4,000 yen and up
Overnight: 7,500 yen and up
Although an unorthodox combination, there are two possible reasons why kei has been written in hiragana: (1) kei is in the Joyo Kanji but is a somewhat difficult and relatively uncommon character, and (2) in this sign, writing kei in hiragana means that the top line matches the bottom line in number of characters.
A Google search in August 2003 reveals that writing kyūkei as 休憩 is the norm, but there are a minority of cases, at least on the Internet, where hiragana are used fully or in part:
| | |
| --- | --- |
| Form | No. of occurrences |
| 休憩 | 565,000 |
| きゅうけい | 2,270 |
| 休けい | 1,910 |