Kagi
Kagi is a native Japanese word meaning 'key' or 'lock' (the two are usually not clearly distinguished). In Chinese characters it is written

. This is how it is written in the signs below: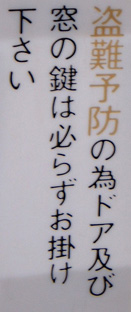 Tōnan yobō no tame doa oyobi mado no kagi wa kanarazu o-kake-kudasai
In order to prevent theft, please be sure to lock doors and windows.
Kagi no tori-tsuke / shūri sugu ukagaimasu
For installation and repair of locks, we will visit immediately.
However,

is not the simplest of characters to write, and there is a tendency to write hiragana or katakana:
Kagi no kyūkyūsha

(registered trademark)

Key ambulance

(for help if you are locked out, need a key urgently, etc.)

Kutsu shūri / ai-kagi

Shoe repair, keys made.
A Google search in August 2003 revealed the following distribution:
| | |
| --- | --- |
| Form | No. of occurrences |
| | 573,000 |
| | 176,000 |
| | 50,600 |
The above figures are only a very rough guide as includes a very large number of occurrences in compound words (such as kenban keyboard) and thehiragana includes parts of words that contain the sequence kagi.