Kusuri
Kusuri is a native Japanese word meaning 'medicine'. It is also used in a slang sense for 'drugs' (addictive or mind-altering substances) and for chemicals used in technical processes (such as those used in glazing pottery, etc.).
Normally kusuri is written with the Chinese character

, as in this sign outside a pharmacy:

Kusuri
Medicine
But many pharmacies write kusuri in hiragana as
, as in the example below. Note how only kusuri is written in hiragana. The word keshōhin 'cosmetics' is in characters.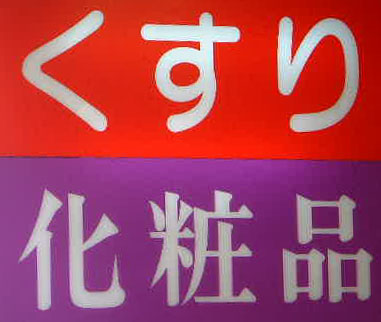 Kusuri
Keshōhin
Medicine
Cosmetics
And needless to say, there are also pharmacies that advertise their trade in katakana as

:
A Google search in August 2003 revealed the following pattern of usage on the Internet:
| | |
| --- | --- |
| Form | No. of occurrences |
| | 1,100,000 |
| | 66,300 |
| | 64,400 |
The figure for

is highly inflated, however, by the fact that

represents not only the native Japanese word kusuri but also a very large number of character compounds where it is pronounced yaku (on reading).