Me-zasu
Me-zasu is a verb meaning 'to aim for'. It is derived from the word me meaning 'eye' and the word sasu meaning 'point to'. It can be written in Chinese characters as

or

.

Keihin ni tsuite-ru fuku-hiki-ken de me-zase, gōka keihin!!
Aim for a grand prize through the ticket attached to the prize.
Like many verbs of Japanese background, it is common to use hiragana (instead of Chinese characters to write the word.

Hito to kigyō no atarashii de-ai o me-zashite
Jinzai haken jigyō
Aiming for a new meeting between people and companies.
Temporary help services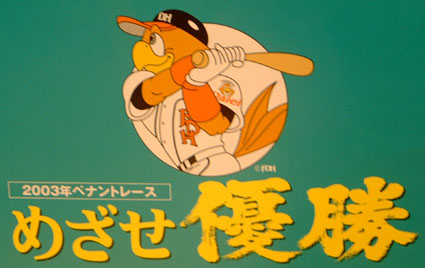 2003 Penanto reesu
Mezase yūshō
2003 Penant Race
Aim for victory!
The following are the results of a Google search of the Internet in August 2003:
| | |
| --- | --- |
| Form | No. of occurrences |
| | 815,000 |
| | 197,000 |
| | 8,910 |
| | 2,570 |