Noboru
Noboru is a verb meaning 'go up'. In the meaning of 'climb stairs', it is written in Chinese characters and hiragana as

. The following sign follows this usage (noboru appears in the -te form nobotte):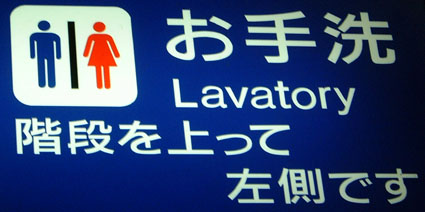 O-te-arai
Kaidan o nobotte hidari-kawa desu
Lavatory
Up the stairs on the left
It is relatively common, however, to write native verbs like noboru in hiragana as
. For instance, the example below is a similar sign in another railway station also directing users to the station conveniences:
O-te-arai wa kaidan nobotte konkōsu ni arimasu.

The toilets are up the stairs in the concourse.
A Google search in August 2003 revealed the following pattern of usage for nobotte on the Internet:
| | |
| --- | --- |
| Form | No. of occurrences |
| | 234,000 |
| | 82,000 |
There are other characters that are used for writing noboru (
,
) which are not relevant here because they have slightly different usages.