Rāmen
Rāmen is a borrowing from Chinese, where it was originally written 拉麺 'pull noodles'. These characters are still encountered, as are the characters 老麺 'old noodles', but the most common form that the word now takes is katakana, as ラーメン, as in the lantern below.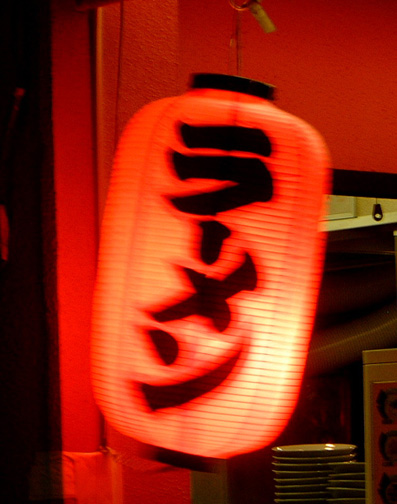 Rāmen
Ramen
Rāmen may also be found written in hiragana. Just down the street from the photo above, taken in Aoyama, was a second restaurant with an almost identical lantern with rāmen in hiragana as
. (The only reason that there is no photo here is the fact that the camera's batteries were flat.) An example of hiragana:
Zaru rāmen
780 en

Ramen on slats
780 yen
Although hiyashi-tsuke-men (cold noodle dipped in seasoning) is regularly written using the character 麺 (see below), and 麺 may also be seen by itself, rāmen is only seldom seen written 拉麺.

Kaki gentei
Hiyashi tsuke-men
590 en (zei-komi)
Yoru 10-ji ikō wa 690 en

Summer special
Cold dipping noodles
590 yen (tax included)
690 yen after 10:00 p.m.
A Google search in early September 2003 revealed the following distribution for rāmen:
| | |
| --- | --- |
| Form | No. of occurrences |
| ラーメン | 1,430,000 |
| らーめん | 131,000 |
| 拉麺 | 20,800 |
| 老麺 | 3,150 |
Just out of interest, the alternative name 中華そば chūka-soba (Chinese soba) scored 52,900 hits.