Guardian Lions in Chengdu (1)
This is a pair of stone lions photographed outside a hotel restaurant in Chengdu. They have a chunky, squarish shape that manifests itself in their total aspect. These lions are located indoors, hence the yellowish lighting.
They are in a simplified orthodox style and not overly large, but manage to project a solid and impressive air.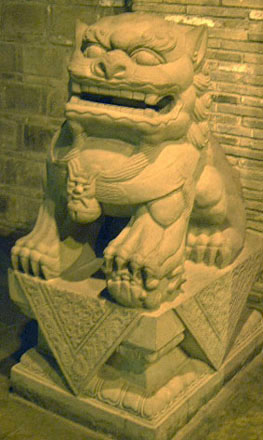 Female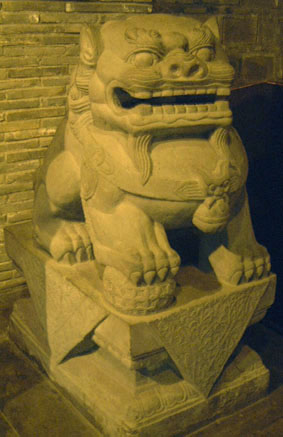 Male
Details:
Type: Imperial lions.
Body type: Stocky and solid, with some musculature.
Stance: Orthodox (solid stance, seated on haunches with free front paw firmly planted on the ground).
Gaze: Straight ahead.
Mane: Standard coiffe. Mane is at back of head, leaving the forehead clear. Mane does not obtrude at the sides.
Ears: Short and pointy at each side. Ears are clear of the mane.
Forehead: Broad. Top of head is smooth and flat, with three lobes only vaguely apparent.
Eyebrows: Curly, flaring upwards at outside.
Point between eyebrows: Single large swelling.
Eyes: Clearly defined.
Nostrils: Flared, some lines of decoration on top.
Mouth: Open, top and bottom row of teeth visible with larger incisors at left and right of top and bottom jaws. Teeth not finely modelled.
Moustache: Fine lines on cheek.
Beard: Two wavy beards.
Halter: Visible; simple decoration.
Pendants on halter: At front, a single round bell hanging from a clasp in the shape of a wild beast's face. A tassel at each shoulder.
Front legs: Standard (muscular). One paw solidly on the ground.
Sexual differentiation: Standard (cub vs globe).
Style of cub: Standard (lying on back with legs up). Good detail.
Style of globe: Latticed surface.
---