Guardian Lions in Shenzhen, Guangdong (1)
These lions, photographed in Shenzhen, are interesting for the way that the cub and the ball are placed between the paws rather than underneath one paw.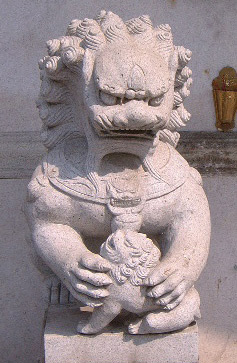 Female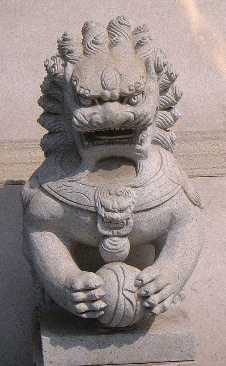 Male
Details:
Style: Unorthodox imperial lions.
Body type: Slight build, some musculature.
Stance: Seated on haunches but front legs are embracing cub and globe (respectively) and are not touching the ground.
Gaze: Head slightly inclined towards the centre.
Mane: Standard coiffe. Mane starts towards the front and protrudes clearly on top and sides.
Ears: Short and pointy, nestling in front of the mane.
Forehead: Largely flat with a hint of lobes.
Eyebrows: Minimal studs. Low-hanging, rise towards the temples.
Point between eyebrows: Double 'beans', topped with leaf-shaped mark on the forehead.
Eyes: Clearly defined; pupil is apparent.
Nostrils: Flared.
Mouth: Open; upward incline towards the back (representing head tilted forward). Teeth finely modelled. Tongue appears to be visible.
Moustache: Fine lines beside nostrils.
Beard: Two wavy beards.
Neck: Short.
Halter: Visible; lightly decorated.
Pendants on halter: At front, a single round bell hanging from a ring in the mouth of a wild beast. A tassel at each shoulder.
Front legs: Legs are embracing a cub and ball (respectively) and paws are not on the ground. Legs themselves do not have muscular appearance and paws do not project power.
Sexual differentiation: Standard (cub vs globe).
Style of cub: Cub is large and sits on its haunches crosswise in front of the mother.
Style of globe: Simple pattern on surface.
---